Facilities
The Becket Sixth Form Centre is a separate branch of The Becket School which houses Post-16 classrooms, a private study area, ICT facilities and the Common Room, with its own food serving area.
In addition, some lessons do take place in specialised classrooms within the main school.
Common Room
The key part of the Sixth Form facilities is the Common Room. This large room is found directly inside the Sixth Form Centre, and features sofas, catering, table football and a television system.
The Sixth Form Committee decorates the Common Room and organizes social events throughout the year, but at all other times its a great place to just chill out and relax with your friends. A small patio is located just outside, which features picnic tables available at all times of the year.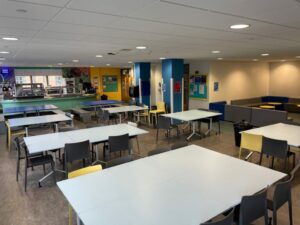 The Common Room also features a canteen area, where sixth form students can purchase food and drink throughout the day. A wide variety of hot and cold food and drink is available, all payable via the school's cashless catering system, which can be topped-up online or on site.