Curriculum structure KS3 and KS4 including Options
Throughout Key Stage 3 (Year 7-9) and Key Stage 4 (Year 10-11) we provide an ambitious,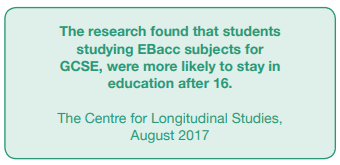 broad and balanced curriculum for all our learners.
Our curriculum design has been long standing and we are very proud of our high expectations for all learners to follow an English Baccalaureate (EBacc) curriculum from Year 7 right through to Year 11. This means that where most students will study Math's, English Language and literature, Science, a humanities (History or Geography) and a Modern Foreign Language (French or German) until Year 11. The EBacc is not a qualification in its own right– it's a combination of GCSE subjects, including a language, that offer an important range of knowledge and skills to young people.
The arts, technology and music are not included in the EBacc, however at the Becket School we see them as an important aspect of the students education. We have therefore ensured that all students are exposed to range of these subjects throughout Year 7-9 and that they are able to select one of these subjects for their GCSE option.