Headteacher's Welcome
Thank you for taking the time to visit The Becket School Website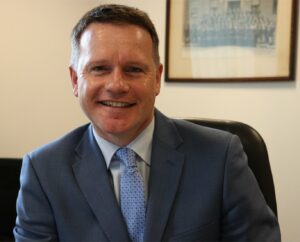 It is a privilege to be the Headteacher of The Becket School and to lead an inspiring, dedicated community within the traditions of our shared Catholic faith. As a Catholic school we recognise the uniqueness and worth of each individual and that each of us has a valuable role to play in The Becket. students, staff, families, governors – all work together seeking the very best and giving their best.
Each individual child is important to us and our expectation is that all our students will develop and grow as young people as they make their journey as part of our community.
What makes The Becket School special is the real sense of community that you can see and sense as you walk around the school. There are very good relationships between staff and students and we aim to work in partnership with our parents and families. The quality of teaching is strong and our staff are talented, caring and dedicated. We also have high expectations for all our students and this is one of the main factors behind our excellent reputation, both in our local community and beyond into the East Midlands Region.